Logic Design is first and foremost a team. Each month, we shine a light on one member of the #LogicTeam and introduce you to the people behind the scenes. Today, we present Paula Cruañas, Head of Strategy in Barcelona.
"The importance of stepping out of the comfort zone" – a common topic on social media, but not for those with an adventurous spirit. What does this mean to someone that travels without a plan or getting lost looking for an address is not an issue? The truth is, this type of person is always searching for new things to contrast them with what they already have known, thus they are able to understand their surroundings. Do you know someone with this profile? We do! Because we are lucky to have Paula Cruañas as the Head of Strategy in Barcelona.
As someone who is remembering good times, one day he tells me that as a child he was very clear about what he wanted to be. After my surprise, he continues: "I had a neighbor who was a draftsman, and when we visited him at his home and he worked at his drawing board, I thought it was the coolest thing ever!" So, later, he graduated in this profession. 
But directions change and you never know what the future holds. Although his professional experience begins in graphic arts, after five years in this field, the opportunity to work as a draftsman arose: "when I had passed all the tests, I thought about it very well… so I decided to continue where I was." A decision he has never regretted.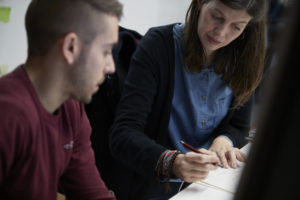 Throughout his career, Ángel has been able to witness many changes within graphic arts, including the relationship born between digital and artisanal work. Nevertheless, he thinks "the problems never change - Even though technology nowadays allows you to be faster and more precise, if you don't have a solid background, you won't be able to get the most out of them."
Ángel has been working for more than seven years with Logic Design as a Final Art Director, and when he is not focused on his desk, he likes to go for a walk, go to the movies, go out for dinner… "I find joy in diversity and in spontaneity - that thing of meeting the same day at the time is not in my living style." And he is so passionate about "the different", that he made sure that I really understood his point!
Graphic arts, believe it or not, brings a new challenge for you every day! Each project is different, even though it comes from the same client. Logic Design, with its innovative vision, has taken the best out of him, a characteristic he empathized with since his very first day at work, until today.  ☀️
Discover other members of the Logic Team here!

Key words : branding agency, design, graphic arts, final art
Bárbara Flores Lugo, Communications Manager